Presenter and feel-good guru Chessie King speaks with Happiful, the UK's Mental Health Magazine, about her journey to self-acceptance and the lessons she's hoping to pass onto today's teens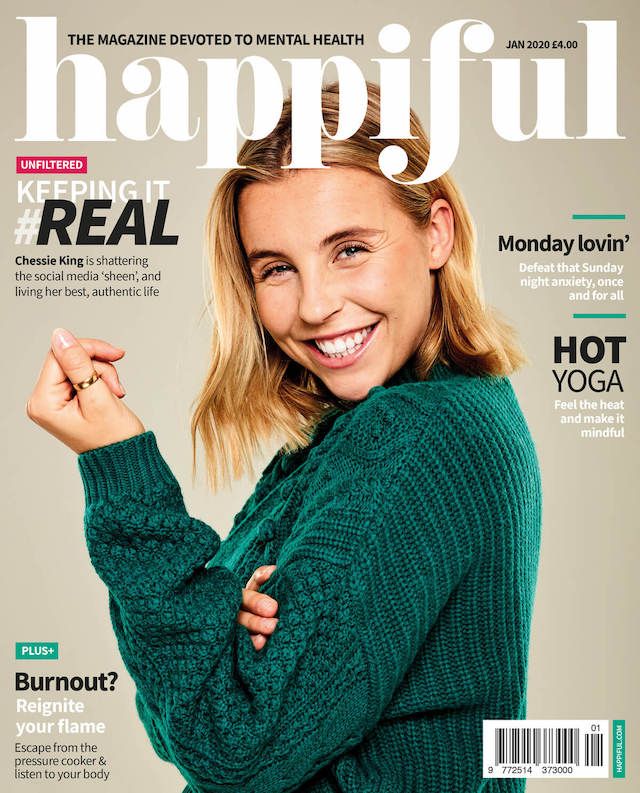 At 17 years old, Chessie King was experiencing anxiety around the way she looked, as at 6ft, she was much taller than her peers. Her anxiety continued to grow throughout her teens, and her focus changed from her height to her body and how it was perceived by others.
"I became widely addicted to what I looked like. I focused on every single part of me that I hated. I became fixated on other people and trying to look like them instead of becoming myself," explains Chessie.

The fashion industry has long been critiqued for its 'one size fits all' approach, something Chessie later learnt when scouted by a modelling agency. She shares how she was criticised, edited and judged, which led her to develop an unhealthy mindset and extreme dieting obsession.
Chessie explains that she didn't recognise herself after an agency edited photos of her, as she watched on: "When the photos went out, that's how they looked. I was like, that's not me… That is definitely not me."
As well as modelling, Chessie's involvement in bikini competitions had an impact on her mental health from this rigid, strict routine. "Sometimes I would be training at five in the morning, crying on a treadmill." She described the process as: "Physically and mentally exhausting."
After following this lifestyle but not meeting the standards of the judges, Chessie was left in "rebellion mode". Coming out the other side, she reflects on this experience and how it helped to shape the way she views herself now. "When you have to go through that and then come out the other side, you do appreciate your body even more."
Part of Chessie's inner-love comes from appreciating her own body and how it works: "Sometimes I literally just put my hand on my heart, and I think, thank you so much for keeping me alive."
Chessie's mission now is to help teenagers to respect and appreciate themselves too. She launched her campaign Dedicate to Educate in June 2019, calling for an extra hour of learning on mental health, body image, and sex education.
Chessie hopes to be a role model for young people, using her own experience as an example, knowing first-hand the liberation practising self-compassion can bring. "I went through a stage when I was 18 to 23 of just hating myself," she shares. "And now I've come full circle and I'm back to being free."
Happiful's January issue also contains a New Year's supplement, guest-edited by Natasha Devon MBE. "This supplement is jam-packed with practical strategies to help you overcome the psychological and physical hurdles that might be preventing you from being the best version of yourself." says Devon who has been working with Mental Health First Aid England on the 'Where's Your Head At' campaign.
The New Year edition of Happiful features an interview with BBC broadcaster and writer, Claudia Hammond who shares the top 10 activities to relax and rest. Vegan chefs, Henry Firth and Ian Theasby, the faces behind BOSH! explore the pros of flexatarianism on the environment. This month, Grace Victory's column explores how we can find a counsellor who is right for us.

***

Happiful is the UK's magazine devoted to promoting a better conversation around mental health and illness.

The magazine is free in a digital format, to everyone who subscribes at happiful.com

For more information about Happiful, images and extracts please contact PR Officer Alice Greedus on alice.greedus@happiful.com

Notes To Editors

Read more of Happiful Magazine on shelves on Thursday 19th December and online at happiful.com.

An extract of Chessie's interview for Happiful magazine will be available on happiful.com.
The magazine, published independently by Happiful, and is supported by sister directories including Counselling Directory, Nutritionist Resource, Therapy Directory, Hypnotherapy Directory and Life Coach Directory.