In December's edition of Happiful, the UK's magazine devoted to discussions around mental health, Lauren Mahon shares her thoughts on therapy, moving on physically and mentally from cancer and learning to live in the moment. Writer and co-founder of The Pink Protest Scarlett Curtis shares her mental health mission and Sunday Times' Bestselling Author Adam Kay talks about prioritising wellbeing in the NHS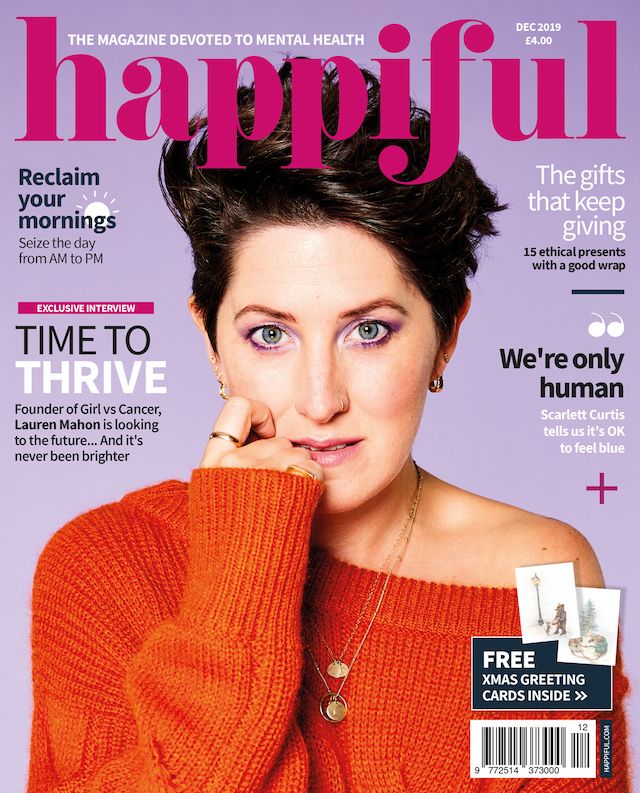 Happiful's Christmas issue features Lauren Mahon, co-host of the multi-award winning Radio 5 live Podcast, You Me and The Big C and founder of the incredible of charitable business GIRL VS CANCER.

Those who follow Lauren (@iamlaurenmahon) will know she injects a large amount of personality, energy, and drive into her work which, as well as broadcasting, includes raising money and awareness about cancer and its impact - something she began after being diagnosed with breast cancer in 2016.  

Now cancer-free Lauren spoke to Happiful about her recent decision to work with a counsellor to process the past few years and look to the future "I started seeing a therapist...and it has really helped me to stand back a bit and look at how I'm living".

"I'm still in cancer mode, thinking that tomorrow isn't promised so there's urgency  in everything I do and actually, I have to stop and allow myself some space to be happy."

Reflecting, she shares "I'll always have GIRL VS CANCER, I'll always want to support people. However, I am very lucky that my cancer - touch wood - is gone, so I think I'd be doing myself a disservice if I didn't give myself space to live without cancer both physically, and in my head."

Happiful's December issue also features an interview with It's Not OK to Feel Blue (and other lies) curator, Scarlett Curtis.

Scarlett shows a passion for helping others live with mental health challenges through sharing her personal experiences. In her teens she faced panic attacks and was diagnosed with depression, anxiety and PTSD. Looking back at this time she says, "I just remember thinking, 'Oh wow, this might be the rest of my life".

Scarlett elaborates on how she eventually found acceptance of this, "It took a lot for me to accept and understand I could still have an alright life, and that I was probably always going to have some of these issues."

It's evident that Scarlett's anthology has had a great impact on the mental health community and beyond, when talking about the reception to her work, she mentions the positive feedback from those who don't have mental health challenges themselves, "They say: 'I've never been through mental health illness but it's helped me understand more."

From challenging mental health stigma in society, to the NHS, former doctor Adam Kay knows all too well the mental strain that can come from a high pressure job. Happiful talks to the comedian who is touring the UK with his show, based on his book, Twas The Nightshift Before Christmas.  

Adam shares how doctors can be reluctant to open up about their mental health and urges for changes within the NHS that makes it that's easier for them to do so..

"You can't look after your patients if you're not looking after yourself. You can only look after yourself if there's an openness about mental wellbeing."

Adam also encourages people to think of health professionals during the festive season, and he knows first hand the difference it makes " Just like giving a card to the postman, put the NHS on your list, because I found a thank you does make a real difference. I still have every card that patients ever gave or sent me. I've thrown away almost every other remanent of of my time as a doctor, but I will never throw away those, because they made more of a difference to me than the people who sent them will probably ever know."

This Christmas, Happiful are encouraging readers to send on a message of support with our free cards illustrated by Becky Johnston, available in the December edition of the magazine.

Read more of Happiful Magazine on shelves on Thursday 21 November and online at happiful.com. An extract of Lauren's interview in Happiful magazine will be available on happiful.com.

Notes To Editors

Happiful is the UK's magazine devoted to promoting a better conversation around mental health and illness.

The magazine is free in a digital format, to everyone who subscribes at happiful.com

For more information about Happiful, images and extracts please contact PR Officer Alice Greedus on alice.greedus@happiful.com

Happiful is the only UK lifestyle magazine purely devoted to mental health.The magazine, published independently by Happiful, and is supported by sister directories including Counselling Directory, Nutritionist Resource and Life Coach Directory.