As an ambassador for Movember, TV star and ITV Racing presenter Chris Hughes has committed to speaking out and helping others with mental health challenges ever since he left the Love Island villa in 2017. His own experiences with mental health challenges started before he hit the headlines, and he's happy to share these in order to make a difference.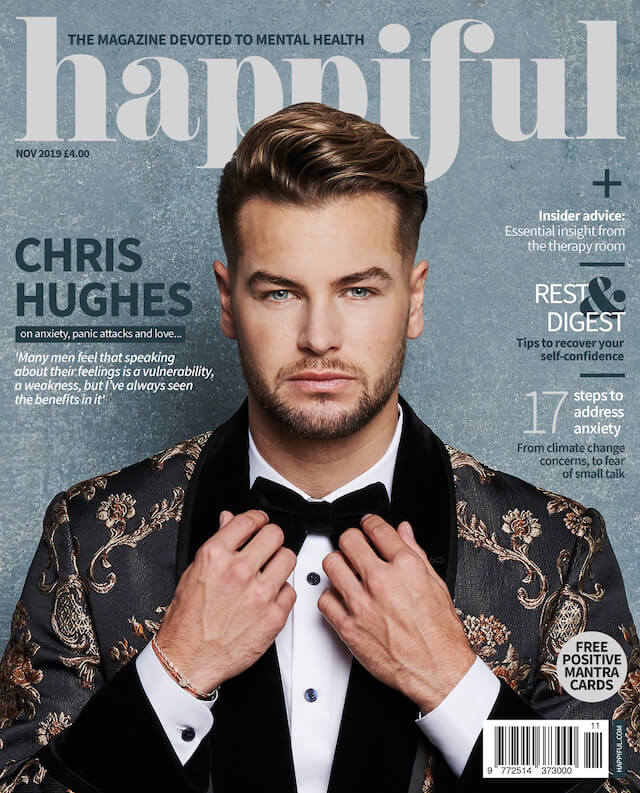 Speaking with Happiful, the UK's magazine devoted to talking about mental health, Chris Hughes opened up about a recent bout of anxiety he faced, explaining that he first experienced mental health challenges in the form of frequent panic attacks when he was just 19 years old.
In his late teens, Chris turned to hypnotherapy, which worked for him, and as he explains to Happiful, he was anxiety-free during his time on Love Island as a result. However, Chris shares that anxiety re-entered his life a few months ago, and increased in severity while he was on holiday with girlfriend and Little Mix star, Jesy Nelson.
Chris describes an anxious incident where he felt awful after getting drunk: "For the last three or four days of my holiday, I couldn't shake the anxiety, and I started feeling really low and down."

To address this, Chris sought help from a clinical hypnotherapist once again, who recommended he practise self-care. "The main thing is to eliminate negative thoughts," says Chris. He now prioritises time outdoors, eating healthy foods high in omega oils, and reducing the time he spends on his phone.

One person that really understands him, Chris shares, is girlfriend Jesy, who faced depression and anxiety herself after receiving brutal comments and bullying on social media. "Just seeing all the things she has been through and overcome, she deserves every bit of happiness now," Chris says, and describes how hard it was watching Jesy's BBC Three documentary, Odd One Out.  "It broke my heart. It was difficult to watch."

Chris says that the pair have a deep understanding and relate to each other's struggles.
Today, Chris is working on his mental health journey and speaks out about the importance of talking. "Many men feel that speaking about their feelings is a vulnerability, a weakness, but I've always seen the benefits in it. It's little obstacles… you're not going to be happy every day of your life; it's normal to have low points. Now I just want to shake it, and I'm trying to do everything right in my lifestyle to make myself feel better."

Chris spoke with Happiful to raise awareness of Movember and encourage readers to support the men's health charity and movement this November. Find out more at uk.movember.com
Chris' full interview is in the November issue of Happiful on sale Thursday 17 October.  

This month's issue also features writer and mental health advocate Richard Taylor who shares how men can support each other by talking about their mental health, and Luke Ambler, the founder of suicide prevention charity Andy's Man Club, talks about his role as a motivational speaker and parent. Grace Victory's November column focuses on how we can manage social anxiety as we approach the festive season.

Happiful is the UK's magazine devoted to promoting a better conversation around mental health and illness.

The magazine is free in a digital format, to everyone who subscribes at happiful.com

For more information about Happiful, images and extracts please contact PR Officer Alice Greedus on alice.greedus@happiful.com

Notes To Editors

Read more of Happiful Magazine on shelves on Thursday 17 October and online at happiful.com. An extract of Chris' interview in Happiful magazine will be available on happiful.com.

Happiful is the only UK lifestyle magazine purely devoted to mental health.
The magazine, published independently by Happiful, and is supported by sister directories including Counselling Directory, Nutritionist Resource and Life Coach Directory.