Star of the stage, page and internet age - award winning actor, author and You Tuber Carrie Hope Fletcher talks to Happiful, the magazine devoted to mental health, about her experiences with imposter syndrome, anxiety and learning about self-worth
The award-winning actor, currently starring in Les Miserables: The All-Star Staged Concert, alongside Alfie Boe and Michael Ball, spoke about the anxiety she has lived with since her career began at the age of just five years old.
"Ever since I was a kid I've been a nervous person," Carrie shared. "But when you're in an industry where you won't get a role because you're an inch too tall, or too short, your eyes are brown or blue, or even because you're too fat to play that role – you're constantly very self-aware."

Carrie's confidence may have grown over the following years and with each of the many roles she has played to high acclaim, however, she says that there are moments when she still - like many other people in the industry - experiences imposter syndrome and encounters 'pinch me' moments.

"It's an insecurity of mine that I always feel like I have to prove something because I never went to drama school. I convince myself that I don't deserve to be here…"

"But then you talk to other people who have been to drama school, and they think the same thing. Everyone convinces themselves that they don't deserve to be where they are."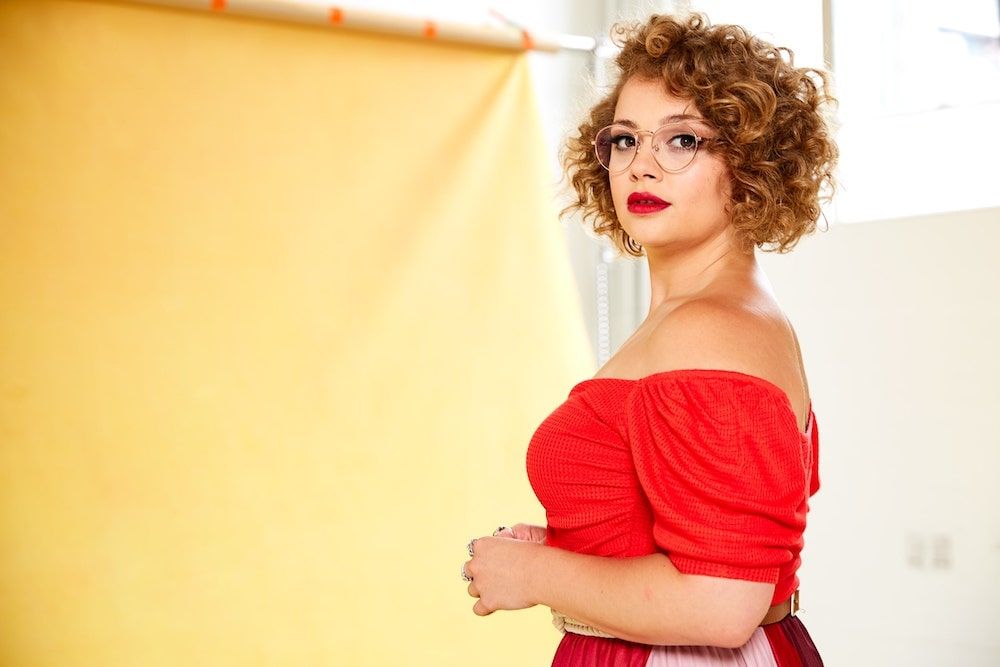 Away from the acting industry, Carrie has carved out a successful career as an author (with Sunday Times bestseller status under her belt) and on YouTube, amassing over 120 million views of her content since 2011.

"When I started, I was 19, which is fetal now I think about it. That's a weird time to be sharing yourself with strangers, because you don't know who that self is," Carrie says reflecting on her early days online.

Today, Carrie has grown to know herself, and importantly that her own opinion is more important than perceptions of others: "It's not my business what other people think of me - that my mantra," she shares honestly, noting that she continues to work on this approach in life.

"I don't think there will ever be a point where I'm happy just to forget how I'm perceived by other people." she continues. "But me now, compared to three years ago - we're completely different people. It's a miracle."

Carrie's full interview is featured in the September issue of Happiful out this Thursday.

Joining Carrie in the September issue of Happiful magazine, Great British Bake Off favourite Kim-Joy talks about social anxiety and baking, and self-love guru Gok Wan shares the need to embrace ourselves and extend support to our LGBTQ+ brothers and sisters across the world. Grace Victory's first column for the publication focuses on how to manage back to school anxiety and Life Coach Ben Bidwell (AKA The Naked Professor), shares his advice on self-esteem, confidence, relationships and self-doubt.

Happiful is the only magazine devoted to promoting a better conversation around mental health and illness.

READ MORE OF HAPPIFUL'S INTERVIEW WITH CARRIE HOPE FLETCHER ON SALE IN STORES AND ONLINE AT https://shop.happiful.com/ THURSDAY 15 AUGUST.

For more information about Happiful, images and extracts please contact PR Manager Amie Sparrow amie.sparrow@happiful.com.

Notes To Editors

Read more of Happiful Magazine on shelves on Thursday 15 August and online at happiful.com.
An extract of Carrie's interview in Happiful magazine is available here: https://happiful.com/carrie-hope-fletcher-on-rebuilding-and-believing-in-yourself
Happiful is the only UK lifestyle magazine purely devoted to mental health.
The magazine, published independently by Happiful, and is supported by sister directories including Counselling Directory, Nutritionist Resource and Life Coach Directory.Happiful is on sale now in Waitrose, Tesco, Morrisons, Asda and WH Smith Travel. A free e-magazine is available by subscribing to the newsletter at happiful.com and print copies are also available for purchase at https://shop.happiful.com/.