Best-selling author, influencer and campaigner Chidera Eggerue, known to thousands as The Slumflower, has told Happiful Magazine: "You can never be too proud of yourself. Anybody who tries to make you feel embarrassed for being proud of yourself wants you to be smaller. You should never shrink yourself for anybody."
Speaking to the only magazine purely devoted to bettering mental health, the South Londoner encouraged readers of her book, What a Time to Be Alone, to choose themselves - however hard that seems.
"When people are told to choose themselves, they often feel quite scared by that idea because choosing yourself often means disappointing other people," Chidera tells Happiful. "You learn in life that if you want to get far, you're going to have to disappoint people – especially people that you love."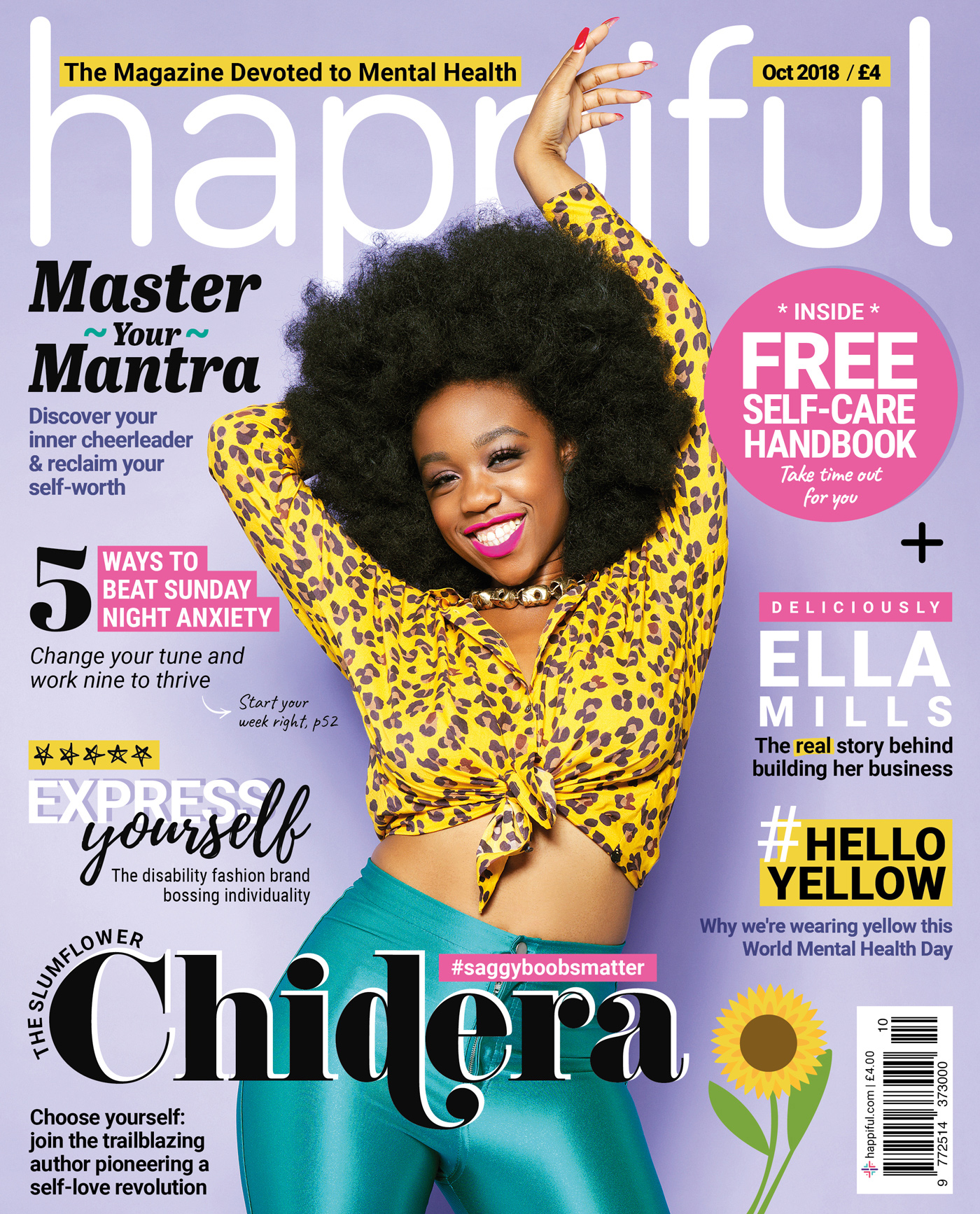 Chidera also spoke about the movement that took social media by storm, #saggyboobsmatter, which encourages women who don't have "perfect" boobs to love their bodies as they are. Since last summer, women from all over the world have shared their braless pictures using her hashtag, with one woman posting – to Chidera's absolute delight – "I haven't worn a bra since @theslumflower said it's OK not to." 'I don't want anyone to feel ashamed if they are not part of the conversation, but I just want to challenge the idea that having saggy boobs makes you less deserving of love"
In addition to taking social media by storm, Chidera has released two books in 2018, What a Time to Be Alone - which debuted in the UK Top 10 Non-Fiction Bestsellers in the week of publication - and Scribble Yourself Feminist, an interactive and empowering journal filled with inspirational women and thought-provoking activities which introduce the concept of feminism to young thinkers aged 12 and up.
Chidera explains to Happiful, "Feminism is a human rights issue and kids deserve to be involved in that conversation. So through having that conversation in the most fun and light-hearted way, the aim of the book is to give an insight into a world where you're allowed to say no, and you're allowed to ask adults why."
Read more of Chidera's interview in Happiful Magazine, on sale Thursday, September 20.
---
ENDS
For more information contact Amie Sparrow, PR Manager, at amie.sparrow@happiful.com or call 01276 580030.