After capturing the nation's hearts in Strictly Come Dancing's first ever same-sex routine, Johannes Radebe opens up to Happiful Magazine about his big break, and how it didn't come easy after dealing with school bullies and losing his father.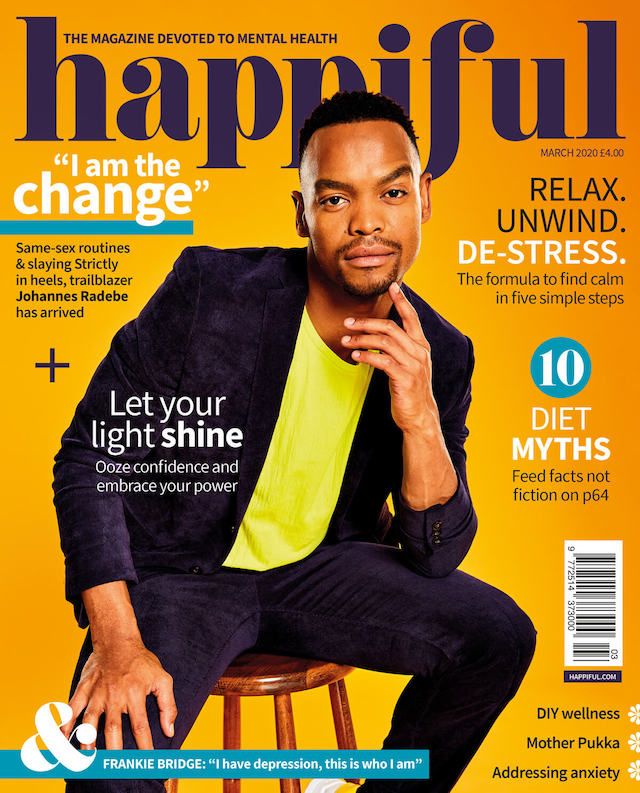 Johannes Radebe hit the headlines in 2019 when he danced with fellow Strictly pro, Graziano Di Prima, in the show's first ever male duo dance. In the March edition of Happiful, the UK's magazine devoted to mental health, Johannes delves into the journey that led him to the Strictly Come Dancing stage, and the now legendary dance.
Speaking of his childhood, Johannes explains that his family were extremely supportive of his ambition to become a dancer, and it was his father who bought him his first pair of dancing shoes. Sadly aged just 14, Johannes had to navigate the sudden loss of his father to tuberculosis. "Dad's death was a sad one because it was quick. We were very close," he says, adding that his father "would have been very proud" of his achievements.
However, being in the spotlight didn't always come easy to Johannes. While dance has been his "escape" from an early age, he shares that as a result of the attention it brought him, he faced bullying at school. "It left me confused, feeling like there was something wrong with me. It was isolating. For the longest time I thought 'I'm not worthy' and 'why are you putting yourself through this?'"
Despite his initial doubts about pursuing dance, Johannes' career was propelled forward when he accepted an offer to enrol at a dance school for disadvantaged youngsters. He trained hard, and to this day remains the undefeated South African Latin champion. Johannes later joined Strictly in 2018. "It's so nice amongst the pros," he shares."They're all kind. It's been so great."
Reflecting on his experience of dancing on prime time TV with best friend Graziano, Johannes says he realised that there was no need to hide anymore, as he felt he had to at school. "The world has been ready, all I had to do was embrace who I am fully, fully, fully, because that was always my fear – that sense of rejection [...] It took me 32 years to finally accept that and say, 'Honestly, this is my life.'"
As a public figure within the LGBTQ+ community, Johannes is passionate about making a difference, and describes how he's proud of his role, which promotes the acceptance of greater diversity. "I'm the change. Honestly, I see it like that. I'm the first gay black man on Strictly. I just think, good for you Johannes. I'm proud!"
Looking towards the future, Johannes reflects on the society we live in. "We need to live in a world where we're not afraid to stand up to what's wrong, because what I do in my bedroom has nothing to do with you."
Johannes' full interview is in the March issue of Happiful Magazine, on sale Thursday 20th February.
The March edition of Happiful Magazine also features: interviews with singer Frankie Bridge who talks about her new book OPEN and her stay in a mental health hospital; former Blue Peter presenter Konnie Huq discussing her children's novel Cookie! and the Most Annoying Boy in the World; and Grace Victory focusing on the link between mental health and diet culture for her column.
Happiful is the UK's magazine devoted to promoting a better conversation around mental health and illness.
The magazine is free in a digital format, to everyone who subscribes at happiful.com
The digital version of the magazine is also available on Happiful's mobile app.
For more information about Happiful, images and extracts please contact PR Officer Alice Greedus on alice.greedus@happiful.com
Notes To Editors
Read more of Happiful Magazine on supermarket shelves nationwide on Thursday 20th February and online at happiful.com. An extract of Johannes interview in Happiful magazine will be available on happiful.com.
Happiful magazine is available in major supermarkets and at shop.happiful.com
Happiful Magazine was established in March 2017 and exists to provide a supportive community, and continue conversations about mental health and illness –  sharing stories from members of the public, people in the public eye and professionals from therapeutic industries.
Happiful magazine is supported by the Happiful family – including Counselling Directory, Life Coach Directory and Hypnotherapy Directory – which enables free distribution of the e-edition of the magazine to more than 90,000 people every month.